The Mermaid Team
Mehdi Abrishami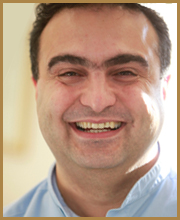 Dip Dent Imp (UCL)
GDC No. 77366
Mehdi is the principal dentist. Graduated from Royal college of Dentistry Aarhus university in Denmark in 1998. He was then awarded at UCL a University Diploma in Dental Implants in 2012.
He has undertaken a 4 year long Implantology course at Eastman dental institute in London where he has achieved a Diploma in Implant Dentistry. Mehdi's main interests are surgical and cosmetic dentistry.
He is committed to furthering himself in the field of dentistry and as a result he is attending many courses both national and internationally.
He is an active member of British society for restorative dentistry, Association for Dental Implantology UK, Member of international team of implanatology and a Member of British Dental association.